Guys. Christmas is just over a month away, but dont worry because we have a TON of cards for the season that won't break the bank! Check it!
Golddust Studios! only $3 per card!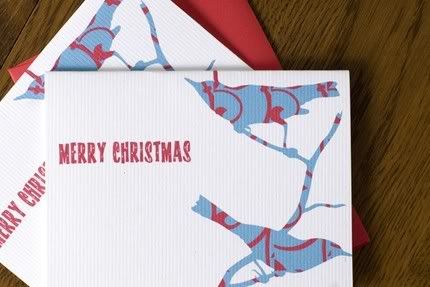 These are so cute.. from Punkin Card Co.. coming in packs of 10 cards and matching envelopes for only $30!
Finally! We have gotten in a ton of good stuff from YeeHaw Industries. We have all the designs shown above, plus all of those in blue shades too. They are running $5 a card, but you'll be impressed, they are huge and have lots of room to write love letters to the ones you wanna see under the mistletoe! oh yeahhh.
Sparrow&Belle.. another new vendor, out of SanFran.. these are in boxed sets of 8 and for only 15 bucks you cant really beat the price.. above are only 2 of the 4 designs we are carrying!
We have a TON more cards too.. Roy Fleeman, Dog & Pony Show, RLand, SuperIndustrial Love, Foxy & Winston... come by and see.. and I didn't even go into the adorable ornaments, origami Christmas trees, calendars.. ah! Don't you love this time of year???